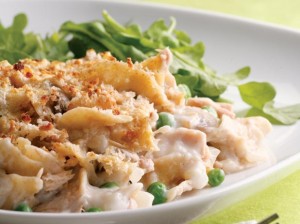 Preparation time : 30 min. | Serves 4-6 persons
This tuna noodle casserole is a no bake casserole recipe which is prepared in a pot. The ingredients are almost the same as used in making the tuna casserole but the method is slightly different. In this recipe the sauce is cooked first with cream of mushroom soup, cheese, milk and seasoning and when it gets thick fold it with rest of the ingredients and top with roasted crumbs and Parmesan.
Ingredients:
16 oz egg noodles
10 oz frozen green peas (thawed)
6 tbsp butter
10 oz cream of mushroom soup
6 oz tuna (drained)
¼ cup milk
1 cup shredded cheddar cheese
½ cup breadcrumbs
¼ cup Parmesan cheese
Procedure:
1. Take a large pot and boil noodles with hot salted water. It would require 10 mins to boil completely.
2. After 5 mins add peas and let them boil for remaining 5 mins. then drain all the excess water and drizzle some cold water and spoon a tablespoon of oil so that noodles would not stick.
3. In the same pot melt 4 tbsp of butter butter over medium heat add mushroom soup, tuna, milk, seasoning and cheddar cheese and let them cook till the mixture starts bubbling.
4. Then fold the mixture with pasta and peas until evenly coated.
5. In a skillet heat remaining butter add crumbs and stir well for 1-2 mins to make the crumbs slightly brown.
7. Now take out the tuna noodle casserole in the serving dish and top with roasted crumbs and parmesan cheese.
photo source : 1