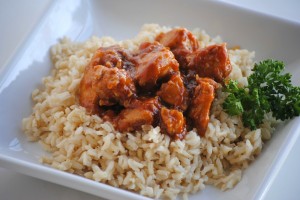 Preparation time : 30 mins. | Serves 6 persons
This Bourbon Chicken Recipe is taken from Chinese cuisine and thus its quick and easy recipe to prepare at home. Its method is more or less similar to sweet and sour chicken with little difference in ingredients. The bourbon chicken gives excellent flavor when it is served with vegetable fried rice.
Ingredients:
2 lb chicken breast (cut into bite-size pieces)
1-2 tbsp olive oil
1 garlic clove (crushed)
¼ tsp ginger
¾ tsp crushed red pepper flakes
¼ cup apple juice
⅓ cup light brown sugar
2 tbsp ketchup
1 tbsp apple cider vinegar
½ cup water
⅓ cup soy sauce
Procedure:
1: Heat oil in a large skillet and saute chicken in it till gets brown.
2: Add remaining ingredients and let the mixture boil over medium heat, then reduce the flame to simmer and cook for 20 more mins.
3. When sauce gets thick, remove the skillet from heat and serve the hot bourbon chicken with boiled.
photo source : 1