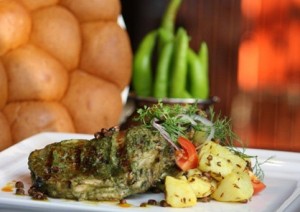 Preparation time: 60 mins. (approx.) | Serves 4-6 persons
Chicken Cafreal originated from South Indian cuisine it is prepared with typical Cafreal paste which has spicy and sour flavors. It is prepared in two different styles; one is simply prepared by searing the marinated chicken pieces as shown in the recipe while another method it is prepared in gravy style. Both have almost the same flavor, but if you want to serve it with rice then Chicken Cafreal Gravy would be preferred.
Ingredients:
2 tbsp black peppercorns
2 sticks cinnamon (2-inch each)
1½ tbsp cumin
1½ tbsp coriander seeds
½ tbsp fennel seeds
4-5 cloves
8-10 green chilies
1 bunch of fresh coriander leaves (coarsely chopped)
1½ tbsp ginger (chopped)
3 tbsp garlic (chopped)
2 tbsp white vinegar
3-4 tbsp tamarind pulp
¼ tsp turmeric powder
½ cup crispy fried onions
Salt to taste
4 tbsp oil
2 lb boneless chicken breast (cut into ½" slices)
Preparation:
1. At first prepare cafreal paste, for that you need to roast cinnamon, cloves, peppercorns, coriander seeds, cumin, and fennel for just 1-2 mins. until fragrant.
2. Then put these spices into the grinder and prepare the finely powdered mixture.
3. In a blender, make a smooth paste of coriander leaves, ginger, garlic, fried onions, and green chilies.
4. Now in a mixing bowl, combine dry spice mixture, green mixture, tamarind pulp, vinegar, and salt. Adjust the level of spices according to your taste. If you feel the mixture is too spicy you may add more fried onions and tamarind pulp.
5. Marinate the chicken in the prepared cereal mixture and leave it for at least 30 mins.
6. Heat oil in a frying pan or griddle, place marinated chicken pieces on it, and cook for 5 mins. over medium-low heat. Then check the downside if it is turned light brown then turn the side and cook for a further 4-5 mins. to get the same texture.
7. Serve the hot Chicken Cafreal with a fresh vegetable salad of cucumber, onion, lemon, and roasted potatoes.