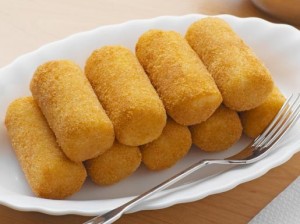 Preparation time : 20 min. + 60 min. setting time | Serves 8-10 croquettes
These chicken croquettes can be prepared either by frying or by baking, in this recipe frying method is used. These croquettes are usually served as tea time snack but can also be served as iftar food.
Ingredients:
5 tbsp margarine
3 tbsp flour
½ cup milk
½ cup chicken broth
2 cup boiled chicken (shredded)
2 tsp ground black pepper
1 ¼ cup bread crumbs
3 tbsp fresh parsley (chopped)
Salt to taste
2 eggs (lightly beaten)
¼ cup grated Parmesan cheese
Procedure:
1. Prepare white sauce for the croquettes, for that heat margarine in pan and cook flour in the melted margarine until pleasant roasting smell starts to come but flour would not get brown it should remain white in color.
2. Then slowly add milk and broth to the butter flour mixture and stir well so that lumps would not form.
3. When the sauce gets thick remove the pan from heat and then cool to room temperature.
4. In a mixing bowl, combine shredded chicken, 1 cup bread crumbs, parsley, salt, pepper and egg.
5. Mix the chicken mixture with half of the prepared white sauce and place this mixture in fridge to set for at least an hour.
6. Now make balls of this chicken mixture and give longitudinal shape, make 8-10 croquettes using this mixture.
7. After that roll the croquettes in remaining sauce and bread crumbs and set aside.
8. Heat the oil for deep frying and then fry croquettes until become light golden brown in color.
9. Serve the delicious croquettes with any sauce or ketchup.
photo source : 1