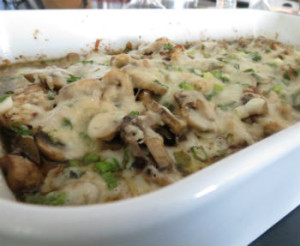 Preparation time: 35 mins. | Serves 8 persons
This Chicken Lombardy is taken from the Italian region of Lombardy. In this recipe, the crispy cooked chicken is baked with mushrooms, cheese, spring onion, and a particular sauce made with broth and grape juice. This easy chicken casserole is usually served with cooked pasta.
Ingredients:
3½ cups fresh mushrooms (sliced)
2 tbsp butter (melted)
6 boneless skinless chicken breasts (cut into 1-inch strips)
½ cup all-purpose flour
1/3 cup butter (softened)
¾ cup unsweetened white grape juice
½ cup chicken broth
½ tsp salt
1/8 tsp pepper
½ cup shredded mozzarella cheese
½ cup parmesan cheese
2 green onions chopped
Procedure:
1. Cook mushrooms in melted butter for 3-5 mins in a skillet over medium-high heat. Stir continuously while cooking so that mushrooms cook evenly.
2. Place chicken strips ins the Ziploc bag and make it flat of around 1 mm thickness.
3. Dust chicken pieces with flour and set aside.
4. Heat butter in a skillet, and cook the chicken pieces in butter for 3-5 mins. until becomes golden brown from both sides.
5. Transfer the cooked chicken pieces into the casserole dish and cover the base of the dish with chicken pieces. Then spread cooked mushrooms onto the chicken.
6. To prepare sauce, cook together grape juice and broth in a pan.
7. When the mixture starts boiling, add salt and pepper and simmer uncovered for 5 mins more.
8. Pour this sauce over the mushroom layer in the casserole dish, and spread spring onion, mozzarella, and parmesan cheese on top.
9. Bake in preheated oven at 450 degrees F for 15 mins. until cheese melts and bubbles appear on top.
10. Serve Chicken Lombardy over the bed of cooked pasta.