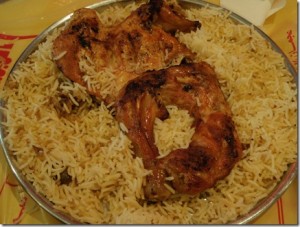 Preparation time : 60 min. | Serves 4 persons
This chicken mandi recipe is one a famous Arabic food which is prepared with roasted chicken and rice. In its typical recipe the chicken is roasted underground along with rice in a particular iron rack in which both chicken and rice are placed separately but today the chicken is  baked  in oven and cook rice separately to reduce the time. Similarly another Arabian chicken which is served alongwith rice is saffron chicken which is prepared with pleasant aroma of saffron and with very little spices.
Ingredients:
For Chicken:
1 whole chicken or cut into large pieces
6 cloves garlic (chopped)
2 tsp lemon juice
2 tsp white vinegar
4 tbsp olive oil
1 tsp white cumin seeds
Black pepper as required
1 tsp curry powder
1 tsp paprika
1 tsp turmeric
2-3 black cardamoms
1 tsp coriander powder
Salt to taste
2 chicken cubes
Ingredients for Rice
½ kg long grain rice
2 medium tomatoes (chopped)
2-3 medium green chilies (chopped)
2 medium onion (chopped)
1 tbsp butter
4 tbsp oil
Salt to taste
Procedure:
1. In a pot boil chicken with 3-4 glasses of water, garlic, cinnamon, cardamom, cumin, chicken cubes and salt for 10-15 min until chicken is half done.
2. After that drain all the chicken stock from the chicken and set aside. Now marinate chicken with remaining ingredients mentioned for chicken including curry powder, lemon juice, vinegar, coriander powder, paprika turmeric and olive oil. Place the chicken in preheated oven at 350 degrees F until become completely done.
3. Meanwhile prepare rice for the mandi, in a pan heat butter with oil add onion, tomatoes and chilies and saute for just 2-3 min until pleasant smell starts to come. Strain the chicken stock prepared earlier and add it to the veggies, let it boil.
4. After that add rice and cook over high heat for 3-5 min till rice comes at the surface or water starts to absorb then reduce the flame to low and cook till rice become completely done. (Note: Take care of quantity of water or stock it should to enough so that its level must be 1" above the rice)
5. When the chicken is done, take out the rice in serving platter in such a way that center portion is half filled, then place the chicken over the rice in the center and serve immediately.
photo source : 1