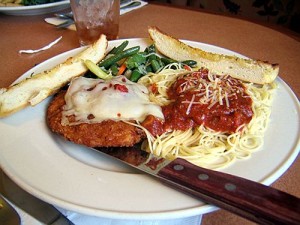 Preparation time : 30 mins. | Serves 4 persons
This chicken parmigiana recipe is one of a famous fried chicken recipe but is differ with others just in presentation. It is served with any kind of pasta, tomato sauce and topping of cream cheese or white sauce.
Ingredients:
2 boneless chicken breast (flattened)
½ tsp salt
½ tsp black pepper
½ tsp mustard paste
½ tsp garlic paste
1 tbsp white vinegar
1 egg (beaten with 2 tbsp milk)
½ cup bread crumbs
For Tomato Sauce:
1 tbsp oil
1 tbsp chopped onion
½ tsp garlic paste
4 tbsp tomato paste
¼ tsp salt
¼ tsp pepper
¼ tsp oregano leaves
1 tsp sugar
Pinch of orange color
For Serving:
Cream cheese for topping
2 cup spaghetti (boiled)
Fresh parsley (minced)
Procedure:
1. To prepare chicken, marinate it first with salt, black pepper, mustard paste, garlic paste and vinegar just for 15 mins.
2. Then dip marinated chicken breast in beaten egg and milk mixture, roll in breadcrumbs and shallow fry over a skillet or frying pan till become golden in color from both sides.
3. Now To prepare tomato sauce, saute onion and garlic in oil for just 1-2 mins. then add salt, pepper, oregano, sugar, tomato puree and pinch of orange color, cook for 5 mins. till thick.
4. After that take a serving platter, make a bed of spaghetti onto the platter, then spoon tomato sauce in the center, place fried chicken breasts over the sauce, top with cream cheese and finally garnish with freshly minced parsley.
photo source : 1