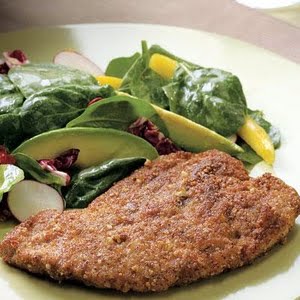 Preparation time : 15 min | Serve 4 persons
This Chicken Pecan Recipe is another fried chicken style with pecan flavor. This recipe requires very short time to prepare as no marination require for chicken which saves time. You can also try this recipe with fish but in that case you don't need to flatten the fish fillets.
Ingredients:
4 boneless chicken breasts
½ cup pecan halves
¼ cup plain breadcrumbs
½ tsp salt
¼ tsp ground chipotle pepper
1 egg white
2 tbsp water
1 tbsp canola oil
Procedure:
1. Flattened each breast piece to make it flat but make sure it would not become so thin that it starts to break.
2. In a food processor, process together pecans, breadcrumbs, salt and ground chipotle to make fine crumbs. Transfer the mixture into the plain large platter.
3. In another bowl whisk together egg white and water.
4. One by one dip each chicken breast piece into the beaten egg and then coat it well with the prepared pecan mixture from both sides.
5. In a nonstick skillet heat oil over medium heat then cook chicken pieces in batches until become golden brown from both sides, it would take 8-10 min to cook each piece.
photo source : 1