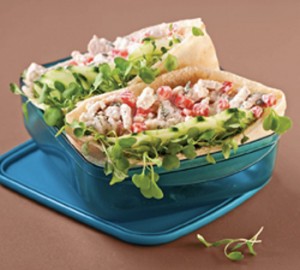 Preparation time : 6 hrs. in Slow Cooker | Serves 4 persons
This chicken pitas recipe is prepared with Greek style and is stuffed with tasty chicken which is cooked in slow cooker. It is called Greek chicken pitas because the sauce used as topping is special Greek sauce prepared mainly with yogurt and sour cream.
Ingredients:
4 pita bread rounds (cut in half)
For Chicken:
1 medium onion (diced)
3 cloves garlic (minced)
1 lb boneless chicken breast halves (cut into strips)
1 tsp lemon pepper
½ tsp dried oregano
¼ tsp allspice
Salt to taste
For Sauce:
¼ cup plain yogurt
¼ cup sour cream
½ cup cucumber (peeled and diced)
½ cup red radish (diced)
Procedure:
1. Marinate chicken with lemon pepper, oregano, salt, and allspice.
2. Put onion, garlic and marinated chicken in the slow cooker and then cook on high for 6 hrs.
3. Meanwhile prepare sauce for the chicken pitas, for that whisk together yogurt and sour cream.
4. You may either mix diced cucumber and radish into the sauce or leave them separately.
5. When the chicken would have been done, fill 2-3 tbsp of chicken into each pita half and then top with prepared sauce and diced radish and cucumber. Delicious chicken pitas are ready to serve.
photo source : 1