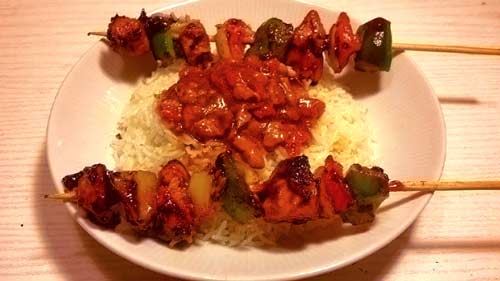 Preparation time: 30 mins. + 30 mins. Marinating time | Serves 6 persons
This Chicken Shashlik With Gravy is a complete meal and is the most popular food around the globe, particularly in Asia and Europe. This recipe is prepared in 3-4 steps; first chicken shashlik sticks are prepared, then sauce, and in the end, assemble with rice. You may also use our previous Shashlik Recipe to prepare the skewers and follow other steps of this recipe t prepare saucy shashlik.
Ingredients:
For Chicken Cubes Marination:
1 tsp oil
1 tsp garlic (minced)
2 lb boneless chicken (cut into cubes)
1 tsp salt
1 tsp red chili powder
1 tsp mustard powder
1 tbsp Worcestershire sauce
1 tbsp soya sauce
1 tbsp chili sauce
3 tbsp tomato ketchup
For Shashlik Sauce:
1 cup boneless chicken (cut into very fine small pieces)
2 tbsp ketchup
2 tbsp tomato paste
1 tbsp chili sauce
1 tbsp Worcestershire sauce
1 tbsp soya sauce
½ tsp mustard powder
1 tsp garlic (minced)
1 small capsicum (finely chopped)
2 tbsp oil
For Assembling:
2 cups long-grain rice (boiled)
2 medium green bell pepper (cubed)
2 medium hard tomatoes (seeded and cubed)
2 medium onions (cubed)
¼ cup bbq sauce
Procedure:
1. Marinate chicken cubes with all the ingredients mentioned for marination except garlic and oil and leave for 30 mins.
2. Heat oil in a saucepan, and sauté garlic in it for just 1-2 mins. or until turns golden.
3. Add marinated chicken and cook over medium-low heat for about 10-12 mins. until the chicken is cooked thoroughly and all the marinated liquid gets dry.
4. Now take wooden skewers sticks, and insert one cube of each onion, bell pepper, and tomato on it. Repeat this pattern for one more time and in between each pattern insert one cooked chicken cube. Similarly, prepare the rest of the shashlik skewer sticks.
5. Now to prepare shashlik sauce, heat oil in a pan and sauté garlic in it until become golden in color.
6. Add chicken pieces and cook until turn white color, then add the remaining ingredients in the sauce.
7. Cook over medium heat for just 5 mins. then add 1;4 cup water and cook till it boils check the consistency of the sauce. If you want thick sauce then cook it for a further few mins. otherwise, it is ready.
8. At this stage, add finely chopped bell peppers and cook for just 1-2 mins.
9. Now take skewers filled with chicken and vegetables, and fry them in batches on a frying pan with just 2 tsp of oil for about 3-5 mins. Turn sides while cooking to cook evenly.
10. After that, drizzle some bbq sauce over the skewers and cook for further 2 mins. it just develops the aroma of shashlik and gives a texture like bbq.
11. When all is done, take a serving platter; make a bed of cooked rice, then pour the prepared shashlik sauce over it, and in the end place shashlik sticks on top.
12. Tasty hot Chicken Shashlik with Gravy is now ready to serve.