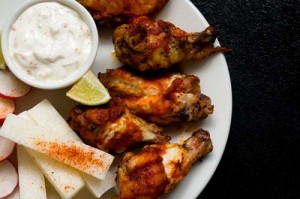 Preparation time : 20 mins. + Marinating time | Serves 8-10 persons
These chili wings are very much spicy but tastes awesome, the main ingredients is red chili which not only gives spicy flavor but also gives beautiful red color to the wings. The wings can also be done by shallow frying which also tastes good.
Ingredients:
2 lb chicken wings with skin
3 tbsp lemon juice
1 tsp paprika powder
1 tsp parsley
6-8 red chili
3 garlic cloves
Salt to taste
6 tbsp chilli sauce
1 cup plain flour
1 tsp red chili powder
1 tsp garlic powder
1 tsp crushed black pepper
Oil for deep frying
Procedure:
1. In a large mixing bowl combine dry ingredients including flour, paprika, garlic powder, black pepper and chili powder.
2. In a blender, add parsley, garlic cloves, red chilies and make smooth paste using little amount of water.
3. Now take a large mixing bowl combine chili paste, chili sauce and salt and mix well. Marinate wings with the chili mixture and leave for at least an hour.
4. After that dust marinated chicken wings with the dry mixture and press it tightly so that flour stick well onto the wings and set aside.
5. Heat oil for deep frying, cover and fry the wings till become golden brown from every side and serve immediately with fries.
photo source : 1