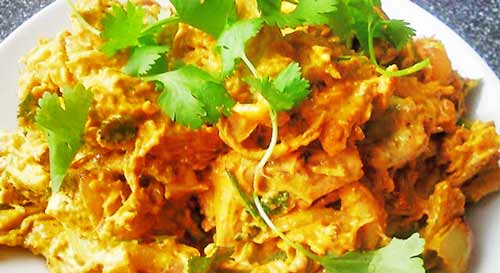 Preparation time : 30 mins. | Serves 2-4 persons
This Coronation Chicken Recipe is prepared with cooked chicken and curried sauce with flavor of mayonnaise and cream. This saucy chicken can be served in variety of ways for instance; to present it as complete meal you may serve it with boiled rice or if you want to take it as snack or crunch then you may use it as sandwich filling.
Ingredients:
1 lb cooked chicken strips or cubes
Oil 2-3 tbsp
1 onion (Chopped)
1 tbsp garlic (Chopped)
2-3 green chilies (Chopped)
½ cup Tomato puree
Pinch of white pepper
½ tsp crushed red chili
1 tbsp curry powder
½ cup chicken stock
½ cup mayonnaise
½ cup cream
Salt to taste
Procedure:
1. In a saucepan, heat oil and sauce onion, garlic and green chilies until become soft.
2. Add tomato puree, white pepper, crushed red chili, curry powder and salt and stir well to mix. Cook over medium heat for 3-5 mins. until mixture starts bubbling.
3. Now add chicken stock, mix well and simmer for 8-10 mins. until sauce becomes slightly thick and starts bubbling.
4. When the sauce is done, transfer it to the mixing bowl and let it cool for 5 mins. then add mayonnaise and cream and mix well. You may also use blender o mix the sauce evenly with mayonnaise and cream.
5. Now take a serving platter, spread cooked chicken strips over the platter and pour the prepared sauce onto the chicken. You may simple serve it as it is, or first mix the chicken with the sauce.
6. Serve the creamy Chicken Coronation with topping of fresh coriander.
photo source : 1