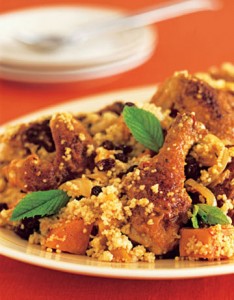 Preparation time : 40 min. | Serves 6 persons
This couscous with chicken recipe is taken from Mediterranean cuisine where it is most popular food. It also looks quite healthy as it has all the essential ingredients, the ingredients can be varied according to your taste i.e. can be made of simply veggies. In this particular couscous recipe chicken is marinated with Moroccan spices thus become little bit spicy and hot.
Ingredients:
¼ cup couscous
1¾ cup water
Salt to taste
4 chicken fillets (sliced thinly) or 8 large pieces
4 tbsp olive oil
1½ tsp ground cumin
1½ tsp ground ginger
1½ tsp salt
1 tsp black pepper
¾ tsp ground cinnamon
¾ tsp ground coriander
¾ tsp cayenne
¾ tsp ground allspice
½ tsp ground cloves
6 spring onions (sliced)
½ cup dried apricots, chopped
10 baby tomatoes, halved
2 cups chickpeas (boiled)
Salt and pepper to taste
Procedure:
1. In a saucepan, bring water to a boil with salt then dd couscous and remove from heat and allow to cook for about 5 min. Couscous should be light and fluffy.
2. Marinate chicken with above mentioned 9 spices and leave for 15 min.
3. Heat oil for shallow frying in a pan and fry the chicken in batches till tender and get brown in color.
4. Remove chicken from pan and saute spring onions in the same pan, then add apricots, tomatoes and chickpeas with seasoning of salt and pepper. Cook for about a minute then add chicken to the pan and toss all the ingredients with couscous.
5. Serve the delicious couscous with chicken immediately!
photo source : 1