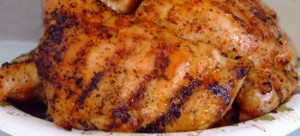 Preparation time : 50 min. | Serves 4 persons
This grilled whole chicken recipe is prepared in oven rather than in grill pan but you can prepare it over coal to get bbq flavor. This is a typical Indian style grilled chicken which is little bit spicier than other continental grilled chicken.
Ingredients:
1 kg whole chicken
1 tsp chili powder
1 tbsp ginger garlic paste
1 tsp cumin (roasted and crushed)
1 tsp coriander (roasted and crushed)
1 tsp garam masala powder
Salt to taste
2 tbsp lemon juice
2 tbsp yogurt
Pinch of orange red color
2 tbsp chili sauce
1 cup oil or ghee
Procedure:
1. Prick chicken using fork so that spices easily absorb in the chicken.
2. Combine all the ingredients in a mixing bowl and make uniform batter. Marinate chicken with the marinade and massage it well so that spices flavor absorbs everywhere.
3. Now take a wide baking dish and place chicken in it. Preheat oven at 375 degrees F and then place the baking dish in oven to grill the chicken.
4. When you feel that chicken is getting dry while cooking brush it with butter or oil. It would take 30-40 min to grill the chicken.
5. Serve it with fries and yogurt.
photo source : 1