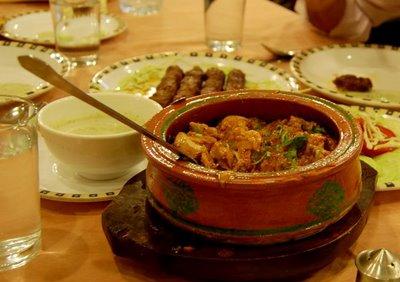 Preparation time : 40-50 mins. | Serves 4 persons
This Indian Chicken Curry Recipe is prepared in the traditional clay pot with the awesome aroma of charcoal smoke. The clay pot cooking is one of the old style cooking and the food prepare in this pot has great taste and aroma.
Ingredients:
½ cup water
2 medium onion
1 tsp ginger paste
1 tsp garlic paste
1 tsp crushed red pepper
1 tsp all spice powder
1 tsp grill spice mix
1 cup yogurt
Salt to taste
½ cup oil
1 lb boneless chicken (cubed)
For Grill Spice Mix:
1 tbsp coriander seeds
1½ tbsp red chili powder
2 green cardamoms
4-5 cloves
1-inch cinnamon stick
½ tsp turmeric powder
1½ tbsp salt
½ tsp coriander powder
1½ tbsp cumin seeds
½ tsp chaat masala
1½ tbsp cumin (roasted and crushed)
1½ tbsp coriander seeds (roasted and crushed)
½ tsp black cumin
¼ tsp citric powder

Procedure:
1. Boil onion with water for just 5-8 mins. then make smooth paste of boiled onion in your blender.
2. In a mixing bowl combine onion paste, ginger garlic paste, yogurt, salt, red chili, all spice powder and grill spice mix. You can use this grill spice mix in making chicken tikka.
3. Heat oil in the clay pot, add the prepared onion mixture into the oil and cook the mixture over medium heat till oil starts to appear on the surface, keep stirring in between.
4. Then add chicken cubes along with half cup of water and simmer for 10 mins.
5. When the chicken is done and oil appears on the surface, give it smoke to give bbq aroma. To give smoke burn a small piece of charcoal on the stove, when it gets red hot place it onto one of the onion shell and then carefully place the onion shell at the center of clay pot. Spoon 1 tbsp of oil or ghee (clarified butter) onto the coal and immediately cover the pot so that smoke will remain inside. Take out the onion shell along with charcoal piece after 15 mins.
6. Serve the hot and spicy Indian Chicken Curry with topping of green chilies and coriander leaves.
photo source : 1