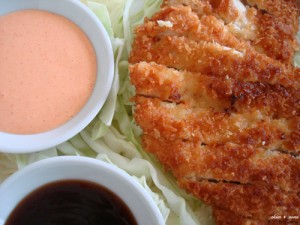 Preparation time : 25 min. | Serves 4 persons
This Katsu chicken recipe is one of a quick chicken recipe that can be served as appetizer. It is served with different sauces like mayo sauce, soy sauce, ketchup, etc. You can make it more tasty by adding seasonal breadcrmbs in the recipe.
Ingredients:
2 boneless chicken breast (make then flatten)
½ tsp salt
½ tsp black pepper crushed
4 tbsp flour
1 egg (lightly beaten)
Bread crumbs as required
Procedure:
1. Marinate chicken with salt and pepper for 15 min.
2. Dust the marinated chicken piece with flour, and then dip in beaten egg and in the end coat with breadcrumbs.
3. Heat oil for deep frying in wok or fryer and fry chicken over medium heat till becomes golden brown from both sides.
4. Take out the chicken from oil drain extra oil over paper towel. Cut the chicken pieces in slices and then serve hot with mayo sauce (prepared with ketchup, lemon and mayo) or soy sauce.
photo source : 1