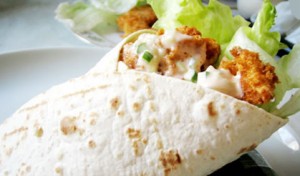 Preparation time : 60 mins. (approx.) + 2 hrs. Dough Resting time | Serves 12 rolls
This KFC Twister recipe is the copycat recipe of the famous fast food restaurant. Though the recipe is not the exact one but its taste greatly matches with the original one. Here in this recipe we have given you all the step by step procedure including making of twister wraps, chicken, coating and assembling so that you can easily follow the recipe and make yummy twisters at your home.
Ingredients:
For Twister Wraps:
2 cup flour
1 tsp salt
2 tsp sugar
1 tbsp instant yeast
2 tbsp oil
Lukewarm water to knead the dough
For Chicken:
2 chicken breast pieces (cut each breast into halves)
1 tsp salt
½ tsp white pepper
½ tsp black pepper
1 tsp garlic powder
1 tbsp soya sauce
1 tbsp white vinegar
For Coating:
½ cup flour
½ cup cornflour
1 tsp baking powder
¼ tsp salt
1 tsp paprika
1 tsp chicken powder
1 large egg (lightly beaten with 2-4 tbsp water)
For Assembling:
½ cup pizza sauce (or as required)
Fresh salad lettuce
½ cup pickled jalapeno (diced)
½ cup mayonnaise (or as required)
Oil for deep frying
Procedure:
To Prepare Wraps:
1. Combine all the ingredients mentioned for making wraps and knead using lukewarm water. When dough gets soft and smooth place it in a large bowl, cover the bowl with plastic sheet and set aside for 2-3 hrs.
2. When the dough becomes double in size take it out from the bowl and punch it down to escape the air. Make small balls of the dough of lemon size and grease them with oil.
3. One by one roll out each of the balls to make it flat and thin round shape.
4. Now you may either cook the wraps in skillet or bake them oven; for baking preheat oven to 325 degrees F, turn on both upper and lower burners and bake them for just 4-5 mins. to make them slightly golden. Whereas to cook them onto the skillet, heat the skillet and cook rolled dough one by one over low heat, turn the wrap after a minute so that it would cook from both sides evenly.
To Prepare Chicken:
1. Take a piece of chicken breast, wrap it in a cling film or plastic sheet and make it flat as much as possible without breaking the fillet. Then cut the fillets into 2-inch wide strips.
2. Now marinate these chicken strips with the ingredients mentioned for chicken and leave it for at least 30 mins.
3. Sift the dry ingredients mentioned for coating.
4. First dust chicken strips with the flour mixture and then keep in freezer for 15 mins.
5. After that dip each strip in beaten egg and then coat again with flour mixture.
6. Preheat oil for deep frying in a wok and fry the strips in batches till become golden brown and crisp. It would take 8-10 mins.
To Assemble KFC Twister:
1. Place a piece of cooked wrap onto the butter paper or parchment sheet, put a lettuce leaf on the wrap, spread some pizza sauce, place 1-2 strips of crispy chicken, drizzle some mayonnaise and sprinkle chunks of pickled jalapeno and then roll it to seal the stuffing.
2. Yummy KFC Twister roll is ready to serve with french fries and ketchup.
photo source : 1