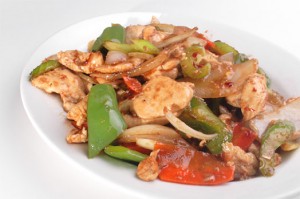 Preparation time : 20 min. | Serves 8 persons
This lemon pepper chicken is prepared with lots of seasoning including Italian seasoning, red pepper, black pepper and off course the lemon flavor. Two kinds of peppers are used red and green you may also use yellow peppers to make this lemon pepper chicken colorful.
Ingredients
For Vegetables:
1 large red bell pepper
1 large green bell pepper
1 medium onion
1 tbsp vegetable oil
½ tsp salt
½ tsp Italian seasoning
¼ tsp crushed black pepper
1 tbsp lemon juice
For Chicken:
6 chicken breasts (cut into cubes)
2 tbsp vegetable oil
Salt or to taste
½ tsp crushed red pepper
¼ tsp crushed black pepper
2 tbsp lemon juice
Procedure:
1. In a frying pan saute peppers and onion in 1 tbsp oil over medium-high heat for 3-4 min.
2. When peppers and onion are going to be softened add seasonings including Italian seasoning, slat, pepper and lemon juice. Stir well for 2 min more then remove the pepper and onion from pan.
3. Now prepare chicken, for that heat oil in the same pan and sauté chicken with seasoning mentioned above. Reduce the heat to low after 2 min then simmer for 5-10 min until chicken become completely cook.
4. After that mix the cooked pepper and onion with the chicken and serve with brown rice.