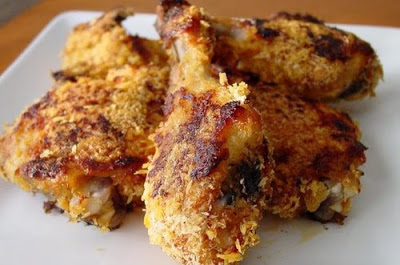 Preparation time : 50 mins | Serves 4-6 persons
These oven fried chicken are marinated in mayonnaise which makes it soft and juicy. You can also mix the spices in mayonnaise instead of mixing them in crumbs which also result in great taste. Serve these baked chicken pieces with any bread or boiled rice.

Ingredients:
1 kg chicken pieces
1 cup dried bread crumbs
1 tsp garlic powder
1 tsp salt
1 tsp ground black pepper
1 tsp dried thyme
1/2 tsp paprika
1 cup mayonnaise
Procedure:
1. Preheat oven to 350 degree F.
2. In a medium bowl combine bread crumbs, garlic powder, salt, pepper, thyme and paprika.
3. At first marinate chicken pieces with mayonnaise and then place these pieces with bread crumb mixture until crumbs are coated evenly on every side of each piece.
4. Place chicken pieces in a lightly greased baking dish and bake for 45 minutes until chicken become tender and juices run clear.