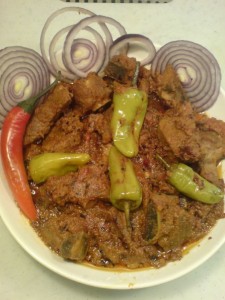 Preparation time : 30 mins. | Serves 4 persons
This pickle chicken recipe is from South Asian cuisine which is spicy and bit sour in taste. In this recipe stuffed green chilies are used in which pickle spice mix is used hence the curry become spicy in taste.
Ingredients:
750 gm chicken
1/2 tsp turmeric powder
1 cup onion (sliced)
1 tsp mustard seeds
5 cloves
1 tsp fenugreek seeds
1 tbsp crushed fennel seeds
1 tbsp red chili powder
1 tsp crushed cumin seeds
1 tsp black nigella seeds
1 tbsp ginger (chopped)
2 tbsp garlic (chopped)
1 cup yogurt
½ cup mustard oil
Salt to taste
For Green Chilies:
8-10 large green chilies
1 tsp crushed red chili
1 tsp crushed coriander
1 tsp crushed cumin
Rock salt to taste
½ tsp mango powder or lemon powder (to taste)
Procedure:
1. Blend onion to make smooth paste.
2. Beat yogurt and add 2 cups of water in it.
3. Heat oil in a sauce pan, and then add ginger garlic onion paste, cloves, mustard seeds, cumin seeds, black nigella, fenugreek seeds and fennel. Cook for 8-10 mins until all the water on onion would have been dried.
4. Now add red chili, salt and turmeric powder and cook for 2-3 mins more.
5. Add chicken pieces and yogurt to the spices and simmer for 15 mins.
6. Mean while prepare stuffed green chilies for that you need to cut each chili from center so that they should remain attach from the top end.
7. Now mix the spices for green chilies and add 1 tbsp of lemon juice just to make paste and then fill this spice paste into each green chili.
8. After that add stuffed green chilies, cover the lid and cook for 5 mins more.
9. When all the water from chicken have been dried and oil starts to appear on top then serve the hot spicy pickle chicken with cumin rice or Indian bread.
photo source : 1