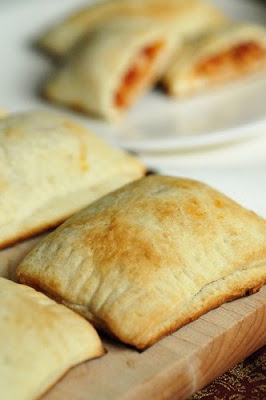 Preparation time 60 mins | Serves 10 persons
These pizza pockets are more or less same as traditional Pakistani samosa recipe. The only difference is in fillings and hence its name pizza pockets. The stuffing is prepared just like pizza topping and use of cheddar cheese inside the pocket gives it the flavor of your favorite cheese pizza. You can also make different shapes of pockets by using pocket cutters.
Ingredients :
For Dough :
3 cup all purpose flour
2-3 tbsp finely ground semolina
1 egg
4 tbsp ghee or butter
1 tsp salt
Pinch of sugar
Warm water to knead the dough
For Stuffing :
1 chicken breast (Boiled and shredded)
1 medium size onion (julienne)
1 tsp oregano
1 tsp thyme
1 tbsp garlic (finely chopped)
1/4 cup tomato paste (dried all extra water)
salt to taste
1 tbsp red chili flakes
1 tsp black pepper powder
Cheddar cheese as required (shredded)
3 tbsp oil
Oil for deep frying
Procedure :
Preparation of Dough :
1. In a dough mixer bowl, combine all the ingredients mentioned for dough except water.
2. Now gradually put warm water and turn on the mixer, when the dough pulls away from the side walls of the bowl then it is ready. The dough should be firm and soft, leave it for 30 mins at room temperature.
Preparation of Stuffing :
1. In a frying pan, fry garlic for just a minute, then add oregano, thyme, chicken, tomato paste and cook for 5 minutes on medium heat.
2. After that add onion, red chili flakes, salt and pepper and cook for 3-4 mins more.
Preparation of Pizza Pockets :
1. Divide dough into 2 or 3 pieces, take a piece of dough and roll it using wooden roller to make a large flat piece of normal thickness.
2. Now make it into square shape by cutting the sides, then divide it into 3-4 long strips of 2″ wide and then cut each strip from the center. Now you have several small rectangular shape pieces of dough.
3. Take one small piece and put a tbsp of prepared stuffing and put some shredded cheddar cheese on it and wrap it by joining the two opposite corners. Seal the pocket from every side by pressing fork. Make rest of pizza pockets by the same method.
4. Heat oil in for deep frying and fry all the pizza pockets in batches for 4-5 minutes until become light golden in color.