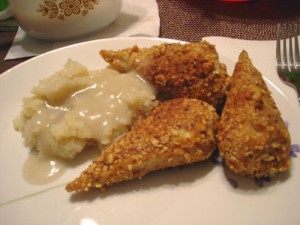 Preparation time : 50 min | Serves 8 persons
This recipe of almond chicken is prepared like fried chicken but with very little amount of oil. The recipe is healthy and nutritious for everyone as wheat flour is used in the coating and chicken fried in corn oil. IT is usually served with noodles or fried rice.
Ingredients:
1/3 cup soy sauce
1 tsp garlic powder
3 lb boneless chicken breasts (cut into 2" wide strips)
½ tsp salt
2 tsp paprika
½ cup whole-wheat flour
½ cup almonds (finely chopped)
2 tbsp corn oil
Procedure:
1. Marinate chicken with soy sauce and garlic powder and then leave for at least 20 min.
2. In a separate bowl combine dry ingredients including flour, salt, paprika and almonds.
3. Dust chicken in the dry mixture and press it tightly using hands so that flour mixture would stick to the chicken.
4. Heat oil in a skillet and place the chicken pieces over the skillet, cover the lid and cook on medium heat until become light golden from bottom side then turn the side and then cook again until become light golden form other side. It would take 15-20 min for both sides to cook.
5. Serve the hot almond chicken with noodles or rice.
photo source : 1