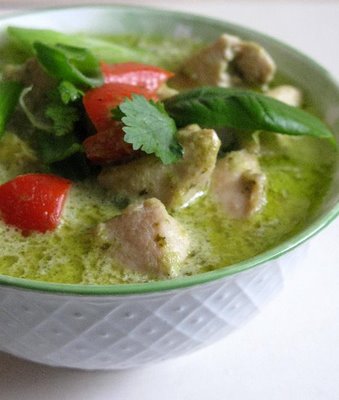 Preparation time : 30 mins. | Serves 2-4 persons
This recipe for green thai curry is prepared with chicken and mushroom along with flavor of fresh coriander, lemongrass and green chilies. This thai green curry is also prepared with some other veggies like peas, broccoli etc which you may add according to your taste.
Ingredients:
2 cup coriander (chopped)
6 garlic cloves
1 onion (chopped)
1½ lemongrass stalk root ends (roughly chopped)
6-8 green chillies (chopped)
2-inch piece ginger
3 spring onions (chopped)
1 lb boneless chicken (cubed)
1 cup mushrooms (sliced)
2 cup coconut milk
1 tbsp ground coriander seeds (toasted)
3 kaffir lime leaves
2 tbsp oil
½ tsp grated nutmeg
1½ tsp salt
Procedure:
1. In a blender make a smooth paste of first seven ingredients including garlic, spring onions, lemongrass, onion, green chilies, ginger and coriander.
2. Heat oil in a saucepan and cook over medium the above paste till all the water of paste gets dry and oil starts to separate from it. Stir continuously while cooking.
3. Then add ground coriander, nutmeg and salt and mix it well in the gravy.
4. After that add chicken, mushrooms and lime leaves along with the coconut milk and simmer for about 15 mins. till chicken and mushroom gets tender. Serve with boiled rice and top it with lemon wedges and lime leaves.
photo source : 1