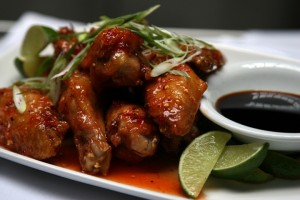 Preparation time : 40 mins. | Serves 28 pieces
This Spicy Chicken Wings is from Asian cuisine, in this recipe a thick sauce is prepared with the wings. Each wings is cut into two pieces and tips are removed, you can use the removed tips of wings in preparing the stock.
Ingredients:
14 whole chicken wings (Remove tips and cut at joints)
1 tbsp cooking oil
3 small dried red chilies
¼ cup chopped ginger
2 green onions (coarsely chopped)
1 cinnamon stick
½ tsp toasted peppercorns
1 ½ tsp cornstarch
For Marinade:
2 tbsp chicken stock
1 tbsp soy sauce
Pinch of white pepper
For Sauce:
½ cup chicken stock
2 tbsp dark soy sauce
1 ½ tbsp brown sugar
Procedure:
1. In a mixing bowl, mix all the ingredients mentioned for marinade, add chicken wings and then leave for 15-20 mins.
2. To make sauce combine sauce ingredients, cook until it starts to boil and then remove from heat.
3. Heat oil in a wok and fry chilies for just 1 min.
4. Fry chicken wings in batches for 4-5 mins. until become brown from both sides.
5. After that add ginger, green onions, cinnamon stick, and peppercorns and fry for just few seconds.
6. Now add the prepared sauce and simmer for 10-15 mins.
7. When the sauce is bubbling, drain the sauce and remove chilies, ginger, onions and cinnamon stick.
8. Dissolve corn starch in 2 tbsp of water and add it to the sauce.
9. When the sauce starts to get thick remove the wok from heat and transfer the chicken wings with sauce on a serving platter.
photo source : 1