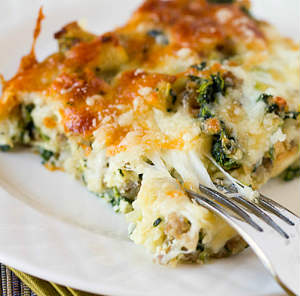 Preparation time: 40 mins. | Serves 12 persons
This Christmas Breakfast Casserole is prepared with ground Italian sausage, spinach, roasted pepper, basil, and cheese flavor. You can prepare this casserole with ground turkey or leftover turkey as well. This could be the perfect breakfast for Christmas to start the day with some tempting cheesy food.
Ingredients:
1 lb ground Italian beef sausage
1 cup onion (chopped)
7 oz roasted red peppers
10 oz frozen spinach (thawed, drained, and chopped)
1 cup all-purpose flour
¼ cup grated Parmesan cheese
1 tsp dried basil
½ tsp salt
8 eggs
2 cup milk
4 oz provolone cheese (shredded)
Fresh rosemary sprigs for topping
Procedure:
1. In a saucepan, cook together ground sausage and onion for about 5 mins. or until becomes light brown.
2. Drain the cooked sausage and transfer it into the greased casserole dish.
3. Sprinkle half of the roasted pepper and spread all the spinach over the sausage layer.
4. In a mixing bowl, combine eggs and milk until well blended, then add flour, basil, parmesan, and salt and mix well.
5. Pour this mixture onto the spinach layer and bake in preheated oven at 350 degrees F for 20 mins. until the knife inserted into the center comes out clean.
6. Then spread all the provolone cheese and remaining red pepper onto the top and bake again for 5 mins. until the cheese melts and becomes golden brown from the top.
7. When the casserole is ready, cool it for 5 mins. then garnish with some rosemary sprigs and cut into slices for serving.