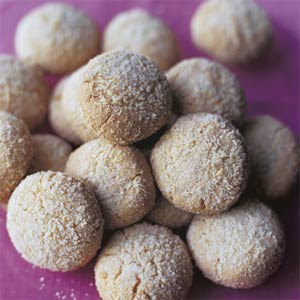 Preparation time : 30
mins
| Serves 40-50 cookies
This almond flavor cookie is very simple and easy to make, you only need to make perfect dough for this butter almond cookies by following the steps showed below and then in just few minutes dozens of cookies are ready to eat.
Ingredients:
2 cups flour
1 cup butter (softened)
1 cup confectioner sugar
1 tsp vanilla
3/4 cup crushed almonds
Procedure:
1. Take a mixing bowl, and beat butter using electric beater, keeping at slow speed.
2. When the butter becomes soft, add half cup of caster sugar and beat them together to make a smooth fine paste.
3. Now add flour and vanilla essence into the butter sugar mixture and mix using spatula and it would become like dough.
4. Mix crushed almonds in the batter. Make small balls of lemon size using the dough and place each of them in a suitable baking pan but make sure they should be placed far apart of each other approximately 2 ".
5. Place the baking pan in preheated oven at 350 F for 13-16 minutes until the cookies become light golden brown from the bottom.
6. Let the baked cookies to cool at room temperature so that they set.
7. After that roll them in remaining sugar. Delicious butter almond cookies are ready to serve.