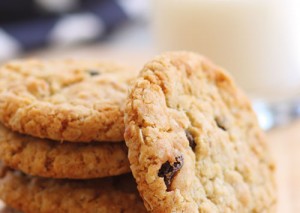 Preparation time: 40 mins. (approx.) | Yield 18 large cookies
This is one of the Easy Oatmeal Raisin Cookies which you can prepare in bulk and store for weeks. These are very healthy and nutritious cookies. You can make this recipe gluten-free by replacing flour with whole wheat flour.
Ingredients:
1 cup unsalted butter (softened)
1 cup firmly packed light brown sugar
1/3 cup granulated white sugar
2 eggs
1 tsp vanilla extract
1½ cups all-purpose flour
1 tsp baking soda
½ tsp salt
½ tsp ground cinnamon
3 cups old-fashioned rolled oats
1 cup raisins (dark or golden)
Procedure:
1. Sift together dry ingredients including flour, baking soda, salt, and ground cinnamon.
2. In a mixing bowl beat butter to make it smooth for about 3-4 mins.
3. Then add both brown and white sugars and beat till the mixture gets a creamy smooth texture. It would take around 5 mins.
4. After that add eggs one by one and beat after each addition. Add vanilla extract while beating the mixture with egg.
5. Now gradually add the dry mixture to the batter and mix well at a slow speed of the beater.
6. When the batter becomes smooth, fold the rolled oats and raisins with the batter evenly.
7. Now take a greased cookie sheet, using an ice cream scoop or measuring cup drop the ¼ cup of batter in the shape of cookies and press it slightly to make it a little flat. Similarly, place the rest of the cookies, and make sure that each cookie is placed at a 2-inch distance from the other. You can use multiple cookie sheets to prepare all the cookies at a time.
8. Place the cookie sheet into the preheated oven at 350 degrees F for around 12-15 mins. or until the cookies become golden brown around the edges but still a little soft in the centers. This makes little softer cookies but if you want crispy cookies then you can bake them for 2-3 mins. more until the center gets the same texture as that of the edges.
9. When the cookies are done take them out of the oven and cool them to room temperature.