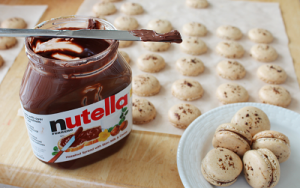 Preparation time : 50 mins. | Serves 4 dozen macaroons or 24 sandwiches
This French Macaroons Recipe is one of a delicious cookies prepared with almond meal and egg whites. The macaroon cookies are very light and crispy, you can make in different colors by adding food colors to the batter. In this particular recipe nutella is used to prepare macaroon sandwiches which you can replace with caramel, butter cream or peanut butter.
Ingredients:
3 egg whites
6 tbsp castor sugar
1 cup almond flour or finely ground almonds
1⅓ cup confectioners' sugar
Nutella as required
Instant espresso coffee as required
Procedure:
1. Preheat oven to 320 degrees F.
2. In a large mixing bowl, beat egg whites till stiff peaks are formed.
3. Then gradually add caster sugar and beat well to make fluffy batter.
4. Sift together almond flour and confectioner's sugar and add it gradually to the egg white mixture. Fold the mixture in such a way that air would retain in the batter and looks like fluffy and frothy batter.
5. Now pour the prepared meringue or batter into the piping bag, take a plain baking sheet line parchment paper on it and drop around 1-inch round shape meringue onto the parchment. Make sure that there should be 2-inch gap between each drop.
6. After that let the baking sheet stand at room temperature for about 15 mins. so that shiny thin skin would form on the top. Then slightly move the parchment sheet so that cookies should not stick to the base.
7. Now place the baking sheet into the preheated oven for about 15 mins. till becomes light brown from top. You may also sprinkle some instant espresso to the top before baking to give attractive texture.
8. When the cookies are done cool them to room temperature, make sandwiches of macaroons by placing nutella in between the prepared French Macaroons.
photo source : 1