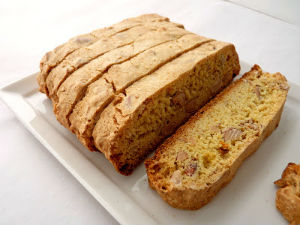 Preparation time: 60 mins. (approx.) | Serves 16-20 slices
This Italian Biscotti recipe is prepared with almonds along with some flavor of vanilla. These biscotti are basically twice-baked biscuits and are popular Italian biscuits. You can make these biscotti with other nuts' flavors including raisins, pistachio, currants, etc.
Ingredients:
5 oz sugar
2 eggs
2 egg yolks
4 oz vegetable oil
1½ tsp vanilla
½ tsp almond extract
8 oz flour
1 tsp baking powder
¼ tsp salt
1 cup sliced almonds
Grated zest of 1 orange
Procedure:
1. In the stand mixer bowl, beat together sugar, eggs, and yolks at high speed for 3-5 mins. until becomes light and fluffy.
2. Add vegetable oil, almonds, orange zest, vanilla, and almond extract and beat again just to mix.
3. Sift together dry ingredients including flour, baking powder, and salt, and add them slowly to the egg mixture. Make sure the mixer runs at low speed so that all ingredients incorporate well and form a soft smooth dough.
4. Divide the dough into two equal portions; make two logs having thicknesses of 3-inch and 12-16 inches long.
5. Place these logs onto the grease and dusted baking tray keeping 3-inch distances between them.
6. Bake in preheated oven at 350° F for 30 mins. or until lightly browned.
7. When the biscotti logs are ready, cool them for 15 mins. then using a serrated knife cut each log into 1/2-inch slices.
8. Bake them again for 10 mins. at 325° F just to make them a little bit brown from the inside and become crispy.
9. When Italian Biscotti are finally done, cool them to room temperature and store them in an airtight container.
photo source : 1