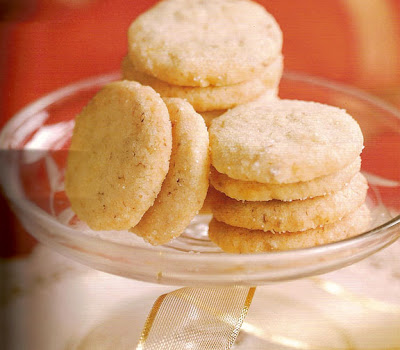 Preparation time : 30 mins. | Serves 4 dozen
These cookies have some different taste as crispy potato chips are used in making its dough, hence it has some sweet and salty taste. you may also use other ground nuts instead of almond according to your taste.
Ingredients:
8 oz. butter (softened)
3 oz. sugar
1/2 cup crispy potato chips of any brand (crushed)
1/4 cup ground almonds
1 tsp vanilla
250 gm all purpose flour

Procedure:
1. In a dough mixer bowl, beat butter and sugar together for 5-8 mins until become white and creamy.
2. Stir potato chips, ground almonds and vanilla in the butter sugar cream.
3. Now add flour to the mixture and start the mixer again to knead the dough. When the dough starts to pull away from the sides of bowl, stop the mixer and transfer the dough to your counter.
4. Make small balls of lemon size from the dough and make them little flat in shape by pressing on your palm so that they look like cookie shape.
5. Place all these cookies in a greased baking tray and bake in preheated oven for 15 mins. at 350 degrees F.
6. After that take them out from oven and let them cool on wire rack to room temperature.