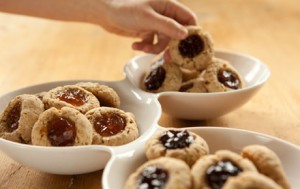 Preparation time : 20 mins. | Serves 2 dozen
These thumbprint cookies are filled with chocolate and raspberry jam, the cookie dough is prepared with oats and flour so the cookies become little bit softer than other thumbprint cookies in which nuts like pecans and almonds are used.
Ingredients:
4 oz butter (softened)
2 oz sugar
1 large egg (separated)
1/2 tsp vanilla extract
4.5 oz all purpose flour
1/4 cup baking cocoa
1 cups rolled oats
Filling:
4 oz baking chocolate (chopped)
2 tbsp butter
1/4 cup raspberry jam
Procedure:
1. Preheat oven to 350 degrees F.
2. Beat sugar and butter together in a mixing bowl until become creamy in texture.
3. Add egg and vanilla extract and beat again for 3-4 mins.
4. Add and fold the dry ingredients including flour, baking cocoa and oats in the mixture to make soft dough.
5. In order to prepare filling, melt chocolate chips and butter together in microwave mix them together.
6. Make small balls of lemon size and press them one by one to make a round flat shape cookie.
7. Place them on greased baking tray, using your thumb press each cookie from the center. Put the prepared melted chocolate mixture into the hollow portion of each cookie and top with raspberry jam.
8. Now place the tray in oven for 10 mins.
9. After that take them out from the oven and cool to room temperature before serving.
photo source : 1