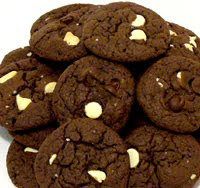 Preparation time : 20 mins | Serves 12 cookies
This is different white chip cookies which are quite soft rather than crispy. You may use different choco chips or even marshmallows instead of vanilla chips according to your taste. To make chocolate chip cookies in much shorter time then follow the recipe of microwave cookie which is prepared with dark chocolate chips in just under 5 mins.  To get more delicious cookie recipes, refer to the book The Golden Book of Cookies which contains over 330 varieties of cookies with descriptive recipes and wonderful photos of related recipes.
Ingredients:
9 oz chocolate cake mix
1 egg
2 tbspn cream cheese (softened)
1 tbspn milk
3/4 cup vanilla chips
1 tspn baking powder (optional)
Procedure:
1. Take a mixing bowl, beat egg to make it fluffy and then add cream cheese to blend completely.
2. Now add baking powder and cake mix gradually and mix well so that no lumps would be in the batter.
3. After that add milk and vanilla chips in the batter and mix using spoon. The batter should be thick enough so that it would not dropped easily from spoon.
4. Now take a cookie pan and spread butter paper on it, using suitable spoon drop batter on the pan keeping 1 inch distance between the dropped batter. Place the tray in preheated oven for 15 minutes at 350 F until it would become cook completely.