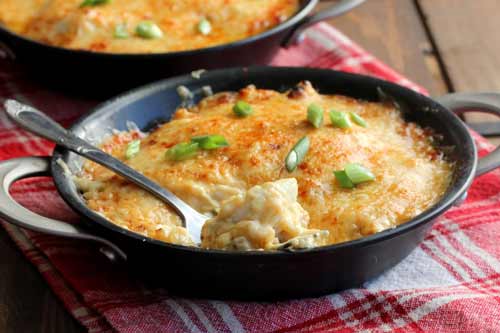 Preparation time: 20 mins. | Serves 4 persons
This Crab Au Gratin Recipe looks similar to the Crab Quiche but its taste is a bit different. This recipe is prepared with white sauce, few vegetables, and very little aroma of Chinese salt, which actually enhances its flavor. If you want to make it a little spicy then you may add paprika or some green chili slices which also taste good.
Ingredients:
2 oz butter
1 tsp garlic (minced)
2 cups white sauce
½ tsp white pepper
½ tsp Chinese salt
Salt to taste
Crabmeat of 3-4 crabs
1 small green bell pepper (finely chopped)
4 tbsp mushrooms (sliced)
1 cup cheddar cheese (grated)
Procedure:
1. Heat butter in a saucepan, sauté garlic in it, and then add white sauce, white pepper, Chinese salt, and salt. Stir well to mix and cook for 2 mins. then remove the pan from heat.
2. Now add crabmeat along with bell pepper and mushroom and fold them well with the sauce so that all the ingredients incorporate well.
3. Transfer the mixture to the casserole dish and top with grated cheddar cheese.
4. Bake in preheated oven at 375 degrees F for just 5 mins. or until the cheese melts completely and the top becomes golden brown.
5. Serve the hot Crab Au Gratin with the topping of some spring onion greens and crackers.
photo source : 1