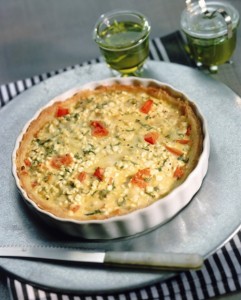 Preparation time : 80 mins. | Serves 4-6 persons
This Crab Quiche Recipe is prepared with some wonderful aroma of fresh herbs with some flavor of egg and cream. Instead of using cheese the addition of egg and cream mixture makes this quiche soft and tasty just like the flavor you get in cheese omelet.
Ingredients:
For Pastry:
6 oz flour
3 oz butter (softened)
Pinch of salt
For Filling:
8 oz cooked crabmeat
2 eggs
2.5 oz double cream
1 tbsp fresh parsley
1 tbsp fresh fennel (finely chopped)
1 medium tomato (chopped)
1 spring onion (chopped)
Salt and black pepper to taste
Procedure:
1. Preheat the oven to 375°F.
2. To prepare pastry, knead the dough first, for that you need to combine salt, flour and butter together and mix them gently to make crumbs like texture.
3. Then slowly add water to knead the soft and smooth dough.
4. Slightly flattened the dough to a round shape then wrap in plastic sheet and chill for 30 mins.
5. Meanwhile prepare filling for the quiche, in a mixing bowl whisk together eggs, cream and parsley along with seasoning of salt and pepper.
6. Shred the cooked crabmeat using fork and set aside.
7. Now take out the dough and roll it out up to the size of your pie dish (i made it to 8-inch size) and then place it nicely onto the pie dish. Press the dough from every side and give a fork pressing at the edges to give some texture.
8. After that place all of the shredded crabmeat at the base of pie, then pour the egg mixture over it and spread chopped tomatoes on top. Bake in preheated oven for around 40 mins. until the filling is set and the top becomes golden.
9. Serve the delicious hot crab quiche with topping of spring onion.
photo source : 1