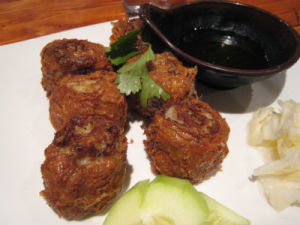 Preparation time: 20 mins. | Serves 20-24 balls
These Crispy Crab Nuggets serve as delicious appetizers for the winter season. These nuggets are prepared with very few ingredients but taste great. You can enjoy these nuggets in winter or all year long with your favorite soup or just as a snack.
Ingredients:
1 lb fresh crab meat
1 cup Italian seasoned bread crumbs
1 egg (lightly beaten)
1 tbsp mayonnaise
1 tsp mustard paste
1 tsp Worcestershire sauce
1 tbsp parsley
1 tbsp Old Bay Seasoning
Procedure:
1. In a mixing bowl, combine egg, mayonnaise, mustard paste, Worcestershire sauce, parsley, and old bay seasoning and mix them well.
2. Now add crab meat and breadcrumbs and mix well-using hand so that the meat perfectly mixes well with other ingredients and no more large pieces would be there.
3. Start making balls of meatball size and set them aside.
4. Heat oil for deep-frying in a pan, and then add prepared balls into the preheated oil. Fry over medium heat until become crispy golden brown. It would take 5-8 mins.
5. Take out the crispy crab nuggets onto the paper towel to drain excess oil and serve with your favorite dip.
photo source : 1