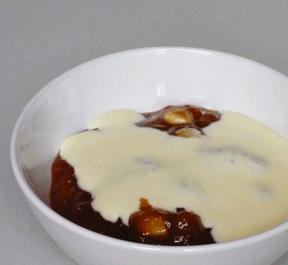 Preparation time : 20 mins + Chill time | Serves 6 persons
This apricot dessert is popular in the South Asian countries and is generally named as "Khubani Ka Meetha". Though its method is same but presentation differs in variety of ways in most of the serving it is topped with whipped cream and almonds besides apricot pulp and custard while in some serving it is topped with condensed milk and little custard.
Ingredients:
500 gm dried apricot (overnight soaked in water)
1 kg milk
1 1/2 cup sugar (or to taste)
4 tbsp vanilla custard powder
Whipped cream for garnishing
1 cup water
Procedure:
1. Take out seeds form the soaked apricots and then make paste of these apricots in 1 cup of water in blender, make sure that all the apricots would not blend few chunks of apricot should remain in the paste.
2. Pour the apricot paste in sauce pan and cook with little sugar about 2-4 tbsp according to your taste. When the paste starts bubbling remove the pan from heat and transfer the paste into wide and deep the serving dish and keep in fridge for 30 mins to chill.
3. Meanwhile prepare custard for the dessert, for that you need to boil milk and then add 1 cup sugar to the milk or according to your taste.
4. Now dissolve custard powder in half cup of cold milk and then add it to the boiled milk. When the custard starts bubbling remove the pan from heat and pour the custard onto the chilled apricot paste.
5. After the dessert has been chilled add some icing of whipped cream and chunks of apricots onto the custard before serving.
photo source : 1