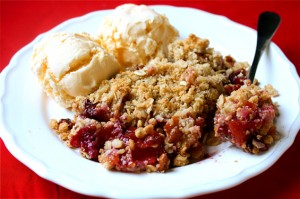 Preparation time : 50 mins. | Serves 6 persons
This blueberry crisp is more or less similar to other crisp recipes like apple crisp. The idea is to just add blueberry flavor instead of other, you can also add some more nuts and dried fruits to the crumbs mixture like walnuts, raisins, etc.
Ingredients:
6 cups blueberries (rinsed and dried)
1 tbsp cornstarch
¼ cup sugar
Pinch of salt
½ cup all-purpose flour
½ cup quick-cooking oats
¼ cup packed light brown sugar
¼ cup sugar
¼ tsp ground cinnamon
¼ tsp ground nutmeg
¾ cup chopped pecans
½ stick unsalted butter (softened)
Procedure:
1. Preheat oven to 375 degrees F.
2. In a mixing bowl combine blueberries, cornstarch, sugar and a pinch of salt together.
3. In another bowl, combine flour, oats, brown and white sugar, cinnamon, nutmeg and pecans and toss well.
4. Add butter and mix well till gets crumbs like texture.
5. Now take a greased baking dish spread blueberries at the base and top evenly with the prepared crumb mixture. Bake for at least 40 mins.
6. After that serve the delicious blueberry crisp by cutting into pieces with ice cream.
photo source : 1