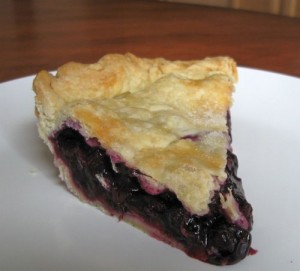 Preparation time : 60 mins | Serves 8 persons
This blueberry pie filling recipe is prepared with homemade crust while the filling is simple and easy. You only need to prepare blueberry sauce and bake the pie.
Ingredients:
For Crust:
4 oz margarine (softened)
1 cup all purpose flour
Pinch of salt
½ tsp cinnamon
¼ tsp nutmeg
For Filling:
4 cup blueberries
¾ cup sugar
3 tbsp cornstarch
3 tbsp water
Procedure:
1. Beat butter until become soft and smooth.
2. Add flour, cinnamon, nutmeg and salt to the butter and combine to make soft dough, add milk in case if the dough looks dry.
3. Now to make the pie crust, spread half of the dough over the pie dish and then bake in preheated oven for 5 mins, at 350 degrees F.
4. Make blueberry sauce first for that you need to cook 1 cup berries with sugar until berries become soft and sugar melts completely.
5. Now to make sauce thick add cornstarch and cook for just 2 mins more and then cool to room temperature.
6. Now add remaining ingredients to the sauce including 3 cups blueberries, lemon rind, cinnamon, nutmeg and butter.
7. Pour the prepared mixture over the pie crust and cover the top with the remaining dough and sealed properly from corners.
8. Place the pie dish in preheated oven for 40 mins at 375 degrees F until the top crust becomes light brown in color.
photo source : 1