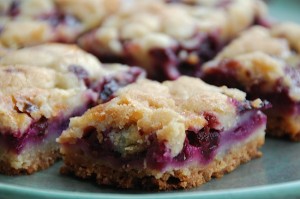 Preparation time : 70 mins. | Serves 8 persons
This recipe of breakfast bars is prepared with blueberry pie filling and sauce. . In this recipe mix nuts are used in the filling of pie, you may use nuts of your own choice.
Ingredients:
1 ¾ cup sugar
1 cup butter
4 eggs
1 tsp vanilla extract
3 cup flour
1 ½ tsp baking powder
21 oz blueberry pie filling
1 ¼ cup powdered sugar
1 tbsp margarine (melted)
2 tbsp lemon juice
½ cup chopped nuts (any kind)
Procedure:
1. In a mixing bowl, beat butter and sugar until become smooth and creamy.
2. Add eggs one by one and beat well after each addition.
3. After that sift together flour and baking powder and add it slowly to the batter.
4. Add vanilla to the batter and mix.
5. Now pour half of the batter into the greased rectangular baking pan, spread blueberry pie filling and chopped nuts over it and in the end pour the remaining batter onto the nuts.
6. Place the pan in preheated oven for 45-50 mins at 350 degrees F.
7. When it is done cool it to room temperature and cut into bars.
8. Now combine icing sugar, margarine and lemon juice and make smooth paste and drizzle it over the blueberry bars.
photo source : 1