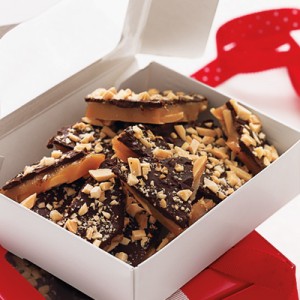 Preparation time : 45 min. | Serves 12 bars
This butter crunch recipe is prepared with chocolate topping and mix nuts. It is prepared in such a way that butter crunch layer is sandwiched between the chocolate layers, in this way nuts may hide by the chocolate and not clearly visible so you can also sprinkle some chopped nuts at the top to make it more tempting.
Ingredients:
1 cup butter
1 cup sugar
2 tbsp water
1 tbsp light corn syrup
¾ cup finely chopped nuts
6 oz semisweet chocolate pieces
2 tbsp milk
1 tbsp butter
Procedure:
1. At first prepare caramel syrup for the crunch, for that melt butter in a saucepan over low heat and then melt sugar with the melted butter. Stir continuously so that sugar would not burn and stick to the pan.
2. When sugar dissolve completely add water and corn syrup in the caramel sauce.
3. When bubbles starts to come then drop small amount of syrup in water if it spread in water like threads and become hard after a while then remove the pan from heat and fold it with chopped nuts immediately.
4. Spread the mixture onto the greased baking pan or wax paper and let it cool until it sets perfectly.
5. Meanwhile melt chocolate with butter and milk over hot water and when crunch is set spread half of the melted chocolate over the crunch. Let it stand as it is until chocolate sets over the crunch.
6. Then turn the other side and pour remaining chocolate over the crunch let it becomes firm and then cut into bar shape.
photo source : 1