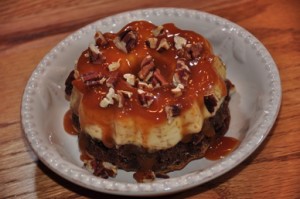 Preparation time : 75 mins. + 1 hr. Resting time | Serves 8 persons
The Chocoflan Recipe is a multilayer dessert consisting of caramel, chocolate fudge cake and flan layers. It looks good when bake in fluted cake pan or in Bundt pan. You can do variations in topping like add some nuts, chocolate sauce or whipped cream.
Ingredients:
12.25 oz caramel topping
For Cake:
1 box triple chocolate fudge cake mix
1 cup water
½ cup vegetable oil
3 eggs
For Flan:
14 oz sweetened condensed milk
1 cup milk
4 eggs
Procedure:
To prepare cake, combine cake mix, eggs, water and oil and beat on medium speed for 2-4 mins. so that smooth batter would form.
Now take a large 12-14 cup size fluted tube cake pan or you can even take bundt pan. Grease the pan with oil and pour the ¼ cup of caramel topping at the base.
Then pour the cake batter onto the caramel layer and set aside.
To prepare flan, blend all the ingredients of flan for just few seconds so that a uniform batter would form.
Pour this flan batter onto the cake batter; it will look like that both the batter mix but after baking, there will be separate layers.
Cover the cake pan with foil; place it in a roasting pan quarter filled with water. Place the roasting pan in preheated oven at 350 degrees F for at least 60 mins. or until toothpick inserted comes out clean.
When the chocoflan is ready, remove the foil and let it cool for an hour so that it would cleanly come out from the pan.
After that place the serving platter upside down on the cake pan and carefully turn the plate along with pan. The chocoflan will nicely set onto the platter.
Top the flan with remaining caramel sauce and serve after cutting into slices.
photo source : 1