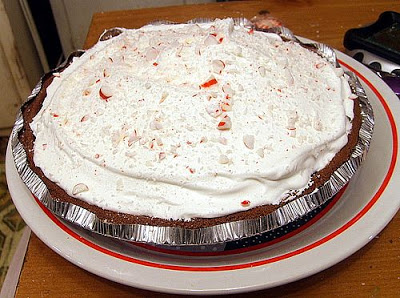 Preparation time : 25 mins. + 1 hr. Refrigeration time | Serves 8 persons
This chocolate pudding pie is little bit different from other pie recipes as it contains two fillings cream filling and chocolate pudding and it is refrigerate so served as cold. You can change the pattern of filling according to your taste i.e white cream filling is sandwiched between two chocolate pudding layers.

Ingredients:
For Crust:
200 gm flour
6 oz butter
3/4 cup chopped walnuts
For Stuffing:
8 oz cream cheese
1 cup confectioners sugar
1 cup cream
1 cup chocolate pudding

Procedure:
1. To prepare crust for pie mix all the ingredients together and make dough, if necessary ad water so that a perfect smooth dough would form.
2. Now take a suitable pie dish and spread the prepared dough on the dish, cover its sides and base completely with dough.
3. Place the pie dish in oven for just 15 mins. at 350 degrees F.
4. Meanwhile make stuffing for the pie, in addition with chocolate pudding prepare white cream filling to make the pie more colorful.
5. Combine cream, confectioner's sugar and cream cheese for filling.
6. When pie becomes cool at room temperature after baking fill it with the prepared stuffing, at first pour one cup of cream filling and spread it evenly over the pie. After that pour chocolate pudding, in the end make layer of cream and place it in fridge for an hour to set.