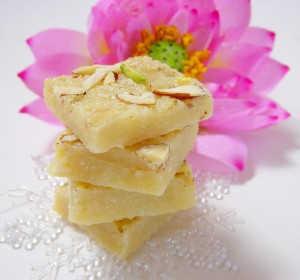 Preparation time : 40 min. | Serves 8-10 persons
This fudge recipe is quite similar to coconut delight which is more popular in Indian and Pakistani cuisine. The recipe is simple but it takes little more effort in the end when you need to cook it gently at that time the mixture starts to get harder and feel difficult to stir. Though it requires bit more effort but this coconut fudge has great taste.
Ingredients:
½ cup coconut milk
1 cup milk
2 cup sugar
¾ cup coconut flakes
1 cup butter
Peeled almonds for garnishing
Procedure:
1. Heat butter in a pan and cook coconut flakes for just 2-3 min on medium heat until pleasant smell starts to come. Don't cook it enough to change its color, it should remain white or pale white in color.
2. Now boil coconut milk and milk in a sauce pan.
3. Add sugar and cook for 5-10 min more so that sugar would completely dissolve in the milk.
4. Add roasted coconut flakes in the milk mixture and continuously stir the mixture while adding so that lumps would not form. Cook the mixture on low heat until it starts bubbling and gets thick.
5. Stir the mixture in between to avoid sticking, when all the liquid absorbs in the coconut flakes increase the flame to medium high and gently cook until the mixture starts to loose the edges of pan.
6. When mixture cook enough to get the shape of ball and may not stick to the spoon then turn off the flame. Spread the coconut fudge on a rectangular pan, sprinkle almonds on top and immediately cut it into square pieces.
7. Serve the coconut fudge after cooling it to room temperature.
photo source : 1