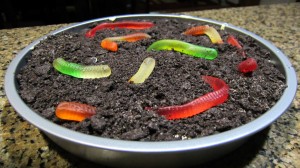 Preparation time : 15 mins. + 1 hr. Refrigeration time | Serves 4-6 persons
This Dirt Pie recipe is nothing but an inspirational dessert whose topping resembles with the dirt particles and insects crawling on it. It would be a surprise dessert when you arrange party for your friends. It is prepared with creamy vanilla pudding with topping of chocolate cookies.
Ingredients:
1 pkg vanilla pudding mix
4 chocolate graham crackers or 1 pkg oreo cookies
4 oz cool whip
Sugar (to taste)
Few gummy worms
Procedure:
1. Prepare vanilla pudding according to package instructions then pour it itno the serving bowl or pie dish.
2. When the pudding gets cool to room temperature fold it with cool whip using spatula.
3. Finely ground oreo cookies or chocolate crackers to give dirt like texture.
4. Spread the chocolate dirt over the pudding mixture and refrigerate for at least an hour to set.
5. Serves the dirt pie with topping of gummy worms to make surprise your family or friends as it would closely resembles with the dirt in which worms are crawling over the dirt.
photo source : 1