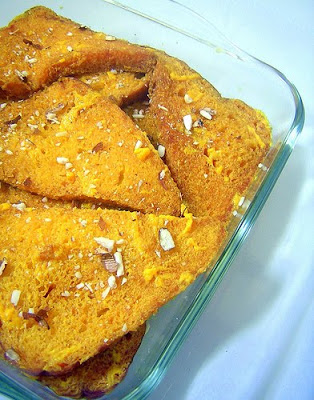 Preparation time : 30 mins. | Serves 4 persons
This double ka meetha or shahi tukray is one of a famous delight of South Asian cuisine. Its an original recipe which is very easy to prepare at home but nowadays lots of other modified recipes are found in which condensed milk, evaporated milk, etc are used to prepare milk mixture which also results in good taste.
Ingredients:
6 medium size bread slices (cut each into triangular shape)
500 gm milk
1/2 cup sugar (or as required)
1 cup thickened ricotta cheese (khoa)
Crushed pistachio and almonds for garnishing
Clarified butter or ghee for deep frying
1 tsp saffron
Procedure:
1. In a frying pan heat ghee upto moderate temperature then fry bread pieces one by one so that they become golden brown in color. After that place them on tissue paper so that extra ghee may not absorb in the fried bread.
2. Now boil milk in a sauce pan, then add sugar and saffron and cook again on medium heat for 10 mins.
3. After that add 1/2 cup of khoa in the milk and stir continuously so that milk may not stick to the pan.
4. When it starts to thick reduce the flame to very slow and put two pieces of bread into the milk mixture. Turn their sides after a minute and then take out them in beautiful serving platter. Soak other bread pieces in the same manner and in the end if milk mixture is left then pour it onto the soaked bread pieces.
5. For garnishing sprinkle some crushed almonds, pistachio and remaining khoa.