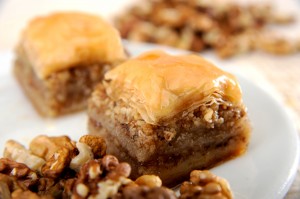 Preparation time: 80 mins. | Serves 16 large pieces
Baklava is a famous Middle Eastern sweet prepared in different styles. This Easy Baklava Recipe is prepared with ready-made phyllo dough and nuts mixture. You can add nuts of your choice to make it according to your taste.
Ingredients:
1¼ cup water
1¾ cup sugar
1 tbsp honey
1 tsp lemon juice
1 tbsp rose water
1 package phyllo dough
1¼ cup butter
For Filling:
2 oz butter
2 tbsp brown sugar
1 egg
1 tbsp honey
½ cup walnuts (coarsely ground)
½ cup pistachio (coarsely ground)
¼ cup raisins
Procedure:
1. To prepare syrup, cook water, sugar, and honey in a saucepan and let it cook over medium heat for 15 mins. When it is done like a slightly dense syrup then add lemon juice and rose water and let it cool.
2. Preheat oven to 375 degrees F. Combine all the filling by mixing all the ingredients mentioned for the filling.
3. Take a suitable casserole dish or pyrex dish, grease it properly, and now start lining the dish with phyllo dough.
4. At first, spread 2 sheets at the bottom then spread butter on it, repeat this pattern for 3 stacks. 5. Then spread 1-2 tbsp of prepared nuts filling onto the phyllo dough layer, then similarly make 2 stacks of phyllo and butter as made earlier. Again spread 2 tbsp of filling and cover with 2 more stacks of phyllo and butter. You can repeat the layer as per your availability or the number of phyllo dough and filling. Make sure that the last top layer should be phyllo dough and brush it with butter.
6. Slightly make marks of squares using a sharp knife. Now bake for 25 min. then reduce the temperature to 325 and bake for another 30 min.
7. After that take it out from the oven and let it cool to room temperature. Cut the baklava following the marks. Heat the syrup and then pour it onto the baklava squares well around each side and corner so that the syrup would absorb well inside.
photo source : 1