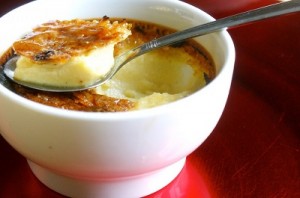 Preparation time: 45 mins. | Serves 4-6 persons
Creme Brulee is a French dessert with a thick custard-like base with delicious caramel topping. It is quite similar to the typical egg pudding. This Easy Creme Brulee recipe is prepared with vanilla flavor which you may replace with your favorite flavor like almond, chocolate, cinnamon, pistachio, etc.
Ingredients:
2 cup milk
1 cup cream
4 tbsp sugar
4 eggs
1 tsp vanilla
2 tbsp caramel sauce
Procedure:
1. In a saucepan, combine milk and cream and bring it to a boil over medium heat.
2. Meanwhile, in a mixing bowl whisk together sugar and eggs with vanilla until frothy.
3. When the milk mixture is boiled, remove it from the heat and cool it to room temperature.
4. Add the egg mixture to the milk mixture and mix them well. Pour the mixture into the mold, drizzle some caramel sauce on top, and bake in preheated oven at 350 degrees F for 15 mins. until becomes golden brown from the top and the toothpick inserted comes out clean.