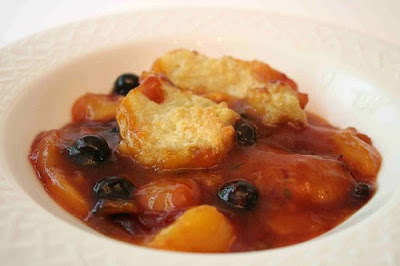 Preparation time : 60 mins | Serves 6 persons
Fruit cobbler is one of a kind of sweet dumplings, in this cobbler recipe blueberries and apple is used. You may also use any seasonal fresh fruit to make this fruit cobbler.
Ingredients:
2 cup all-purpose flour
1 tbsp baking powder
1/2 tsp salt
2 tbsp brown sugar
1/2 cup butter
3/4 cup milk
6 apples (peeled and cut into large pieces)
1 cup blueberries
1/4 cup maple syrup
1 tsp ground cinnamon
1/2 tsp ground nutmeg
Procedure:

1. Preheat oven to 400 degrees F.
2. In a mixing bowl, combine dry ingredients including flour, baking powder, salt and brown sugar.
3. Add butter pieces in the mixture and mix evenly.
4. Now add milk gradually to make it into a soft dough.
5. Using dry flour roll the dough on a flat surface and cut into large squares of 6 inch.
6. Now place a piece of apple in the center of each square and fill the sides of squares with blueberries. Sprinkle some maple syrup on top and bring the corners of square to center at top and seal the square to give it a dumpling shape.
7. After that place dumplings in a baking pan and sprinkle cinnamon and nutmeg powder. Mix water and remaining maple syrup and pour it onto the dumplings, if you like add some blueberries and some other fruits in the maple syrup. Place the baking dish in oven for 40-45 mins until the dumplings become crisp and browned.