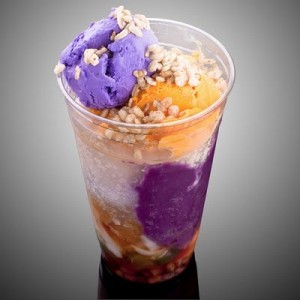 Preparation time : 5 mins. | Serves 1 large bowl
This Halo Halo Recipe is taken from Far Eastern cuisine where it is served as dessert or drink. The recipe is very easy to prepare if you have all the fruits available, the fruits are typically found in Southeast Asian regions but you can add similar fruits which are easily available to you.
Ingredients:
1 cup ripe jackfruit (cubed)
¼ cup shaved coconuts
¼ cup slivered almonds (crushed)
melon (cubed)
2 large bananas (sliced)
2 tbsp crushed young rice (optional)
½ cup fruit jelly cubes
1 cup evaporated milk
2 cup finely crushed ice
½ cup condensed milk
Your favourite ice cream scoops
Procedure:
1. In a bowl, combine together crushed and evaporated milk.
2. Pour the mixture onto the fresh fruits, scoop your favorite ice cream onto the fruits.
3. Put some fruit jelly cubes, pour condensed milk and sprinkle some shaved coconuts and almonds.
photo source : 1