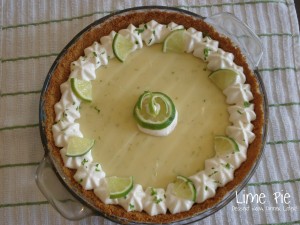 Preparation time : 90 min. | Serves 6-8 persons
This key lime pie recipe is preapred by baking method hence takes longer time to prepare. The crust in this recipe is prepared with dough while in picture it is shown with crumbs crust just like prepare for a cheesecake. Since it is a baked recipe I prefer to make the crust using dough rather than crumbs as crumbs may get harder or darker at the base during baking. But its upon you which crust you want, you may also use ready made pie crust in this recipe.
Ingredients :
For Crust:
6 oz flour
3 oz chilled butter (cubed)
2 tbsp cold water
For Filling :
4 egg yolks
14 oz condensed milk
1 lime juice
1 tbsp lime zest
8 oz cream
2 tbsp caster sugar
Lime slices for garnishing
Procedure:
1. Make soft crumbs using flour and cubes of butter.
2. Then add water to knead the smooth dough and refrigerate for 30 min..
3. After that roll the dough using dust of flour on the surface and then transfer it to the pie dish, give the shape of dough according to the pie dish and cut the excess dough from top edges.
4. Place a wax paper over the dough and put some baked beans on it, bake in preheated oven for just 10-12 min at 375 degrees F.
5. Meanwhile prepare filling, mix condensed milk, yolks, lime juice and zest in a mixing bowl and beat to make uniform batter.
6. When the pie is done, remove beans and cool it to room temperature.
7. Pour the prepared filling over it and bake for 15-20 mins.
8. After that refrigerate it overnight (preferably). Beat cream with icing sugar till stiff peaks are formed then serve the pie with topping of whipped cream and wedges of lime.
photo source : 1